Are you interested in Dendrochilums? These orchids, related to Pleione and Coelogyne, are easy to grow, flower regularly, mainly in spring, and are ideal for windowsill culture.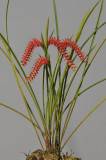 We are offering bargain packs of these lovely species at knock-down prices. But please add first class postage as indicated.
Pack A. Spring flowering.
Dendrochilum cobbianum
Dendrochilum latifolium
Dendrochilum tenellum
Dendrochilum wenzelii (see left.)
List price £69 Your price £39 only (+ £6 postage and packing).
Pack B. Miniature and small species also suitable for a terrarium.
Dendrochilum curranii var. curranii
Dendrochilum curranii var. serratoi
Dendrochilum longibulbon
Dendrochilum quinquecallosum
Dendrochilum uncatum
List price £56. Your price £29.90 only. (+ £5 postage and packing.)
Pack C. Rarer beauties (some only recently named.)
Dendrochilum niveum
Dendrochilum simile
Dendrochilum stenophyllum
Dendrochilum warrenii
List price £60. Your price £33 only. (+ £5 postage and packing.)