to Equatorial Plants, a company that has been providing orchid species for beginners, specialists, commercial Nurseries and Botanical Gardens for over 40 years.
If you are just starting with orchids, we can recommend plants suitable for window sill or for conservatory growing.  If you are an experienced grower, we may have that special species you have been  looking for on our lists.  And if you are a nursery, we can provide flasks in commercial quantities.
Winter offer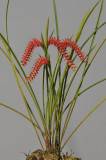 Are you interested in Dendrochilums? These orchids, related to Pleione and Coelogyne, are easy to grow, flower regularly, mainly in spring, and are ideal for windowsill culture.
We are offering three bargain packs of these lovely species at knock-down prices. Head over to the Winter Offer page for more details.